How it Works
How To Buy Madden Coins
Below we have detailed the easy process of buying Madden Coins from our simple, yet cost effective system. Learn how we deliver your MUT Coins instantly!
Please note: Throughout the buying process, our meticulously crafted automated system will provide instructions on what to do on each stage and why. If you'd like a human to assist you, then please contact our live chat support team who will be happy to help!
---
Select Your Platform
1. To start the process, please choose which platform that you play Madden Ultimate Team on; PlayStation, Xbox and PC.
Choose quantity of madden coins
2. Next, you'll need to select how many Madden 24 Coins to buy. During this step, our website will provide you with a price for your chosen amount of cheap Madden coins. Due to our tiered pricing system, the more MUT Coins you choose to buy, the cheaper the cost-per-coin is.
List a player on the auction house
3. Once you have added your chosen the amount of Madden Ultimate Team Coins into your cart, our website will ask you to list any valueless player of your choice on the auction house for us to purchase. This is how we transfer the Madden MUT Coins from our account to yours.
For example, if you've selected to buy 100,000 Madden Coins, then our system will ask you to list a player for 100,000 BUY NOW. Like so: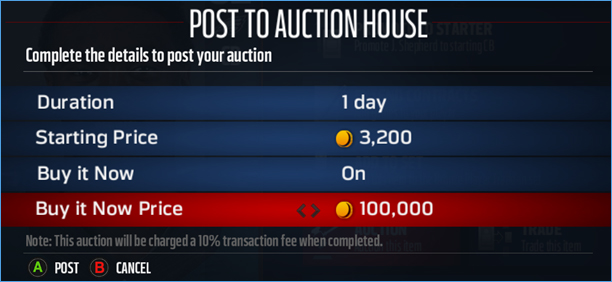 Inform us of your player's information
4. After your player is listed on the auction house, please return to our website and input the information of player into the designated fields as shown below. Our system later uses these details, to search, identify and purchase your player from the auction house.
Here is an example of how this stage looks on our website: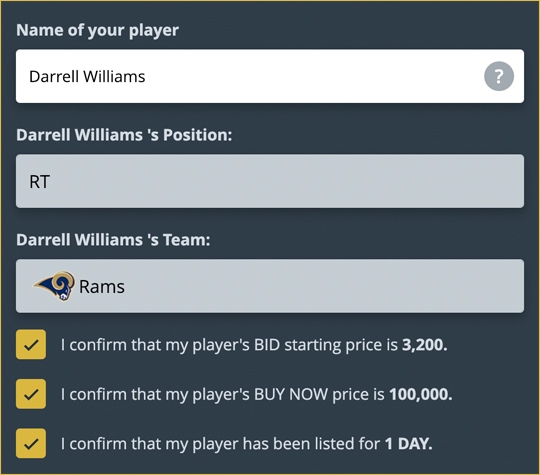 Checkout securely and safely
5. Onto the next and final stage which is the checkout process, you will be asked to input your billing details on our highly-secured checkout stage that's encrypted by Comodo's highest bit-rated SSL.
Assemble your dream Ultimate Team squad
6. The moment that your order has been paid for and completed, our automated system is triggered into action by searching the Madden Ultimate Team auction house for your player. Once identified, it will instantly purchase it through the 'buy now' feature. Causing you to receive your cheap MUT Coins immediately!
---
Returns
In the unlikely circumstance that your Madden Coins have gone undelivered, we will immediately try to contact you via email to complete your order.
Until your MUT Coins are delivered, you are entitled to a refund at any point. If you wish to request a refund, please use our Contact Us page with the order number and we will look into your order and process your refund back into the account you originally made the payment with.
If an order has gone undelivered and we are unable to contact you via email, we will process a refund on the 7th day after the transaction was made.
After your Madden Coins have been delivered, no refunds are available thereafter. Though, you are able to sell MUT Coins to us.